Settle School/Arrowmont
Arrowmont School of Arts and Crafts began in 1912 as Settlement School and brought education, economic development, and health care to rural Gatlinburg, Tennessee. Pi Phis were instrumental in promoting the academic and industrial enrichment of area children, and the Jennie Nicol Health Center was a model for other mountain health facilities until 1965.
In conjunction with the University of Tennessee, Settlement School began giving summer craft workshops that were highly successful. These workshops developed into a year-round program of arts education. Today Arrowmont is an internationally known visual arts complex, boasting a renowned faculty and international student body.

Literacy Initiatives
-Champions Are Readers(CAR)-We travel to 3rd grade classrooms to promote the building blocks of literacy.
-Read Across America-March 2nd (aka Dr. Suess's Birthday Day) We celebrate reading.

Arrow in the Arctic
Pi Phi's Canadian Philanthropy provides support for the many branches of the library systems in Whitehorse, Yukon, Yellowknife, and Northwest Territories.

Pi Beta Phi Foundation
Pi Beta Phi Foundation was established to fund programs that promote the intellectual, ethical, and leadership development of members. The Foundation awards scholarships and fellowships annually to collegians and alumnae. It funds leadership education for members at conventions and leadership academies.

Holt House
This is where Pi Beta Phi was founded. It was bought by Pi Beta Phi in 1938. Since then Pi Beta Phi has restored and preserved the property. Today it is used for meetings, initations, ceremonies, weddings, and receptions.

Chapter Philanthropy/Service Events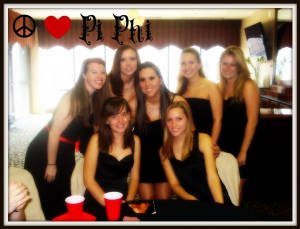 -Book Drive
-Coin Collections
-Poker Touranment
-WVU Dance Marathon
-Relay For Life
-Bake Sale for Children's Miracle Network
-Adopt-a-street
-Cinderella Project
-National Eating Disorder Awareness Week
-Steven Hofstetter Benefit Comedy Show
-We participate in many other philanthropies of local fraternities and sororities.
*All proceeds raised in our local philantropy goes towards the building of a Childrens Library