Amazing Opportunities Through Pi Beta Phi!

- 1st place in Greek Week!.
- Frienship Scholarship Recipient Brooke Bonner.
- Newly renovated house thanks to House Corporation and Capital Campaign
- State-of-the-art security system and most updated software on campus.
- The Greek Sorority GPA is consistantly higher than the overall GPA for women at WVU!
- Sisterhood events such as movie and a makeover, danceoffs, movie nights, and walks on the rail trail!
- Attending Ohio Kappa's Installation on January 22, 2010 at the University of Cincinnati!
- Champions are Readers Program.
- Adopt-A-Street a few times each year.
- Formal April 17, 2010 at Lakeview Resort
- Founder's Day was on April 25, 2010
- Pi Beta Phi Alumni Club.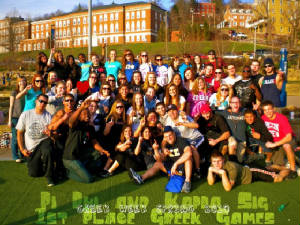 Greek Week Champs!!